I've learned too much.
About Storytelling & Screenwriting because of an @DoctorHooey Prescription.
I need to talk about my Latest Revelation About The Star Wars.
And it ain't funny.
Because only 2 out of the 6 Star Wars Movies Are Actually Any Good!
First: "Story" by Robert McKee.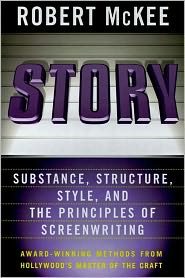 A fascinating "read" as a film fan. After reading this a few times, I feel as though I just started all over again being a film fan...or not.
Jaws holds up. I saw Jaws at the Brattle with Dr. Hooey & El Post back in November for my Best 40th Birthday Ever! (Yay! :) )
Jaws' Sequels Though...Ahem.
So my love of Star Wars has not changed. Nor has my appreciation for the Myth.
But as Conan O'Brien, an Harvard educated voice of clear reason stated recently "Myth is the Opposite of Information". A paraphrase at best. But it's near the end of the 75-minute long Jack White interview that's worth it but iDigress...
Feeling as an adult that the first two movies "Star Wars" and "Empire Strikes Back" were great movies but then something derailed at Return of the Jedi.
Something Happened.
That's For Someone Else to Plumb.
I'll Simply Acknowledge This and Move Forward.
My newest complaint with Return of the Jedi I guess is This:
Han Solo has the Worst Payoff in Cinematic History.
Emotionally.
As a character. A Vehicle.
Han in a way is "Us". Amok all this Crazy Sci-Fi stuff, Han was One Real Human.
Not a strange kid from the boonies. Nor his haughty, high-class twin sister.
Han was more like people I knew than anyone else in the movie. Making Choices a Human in his situation you can see doing in such a setting.
But Han Solo isn't the Hero of Star Wars? Anakin Skywalker or Darth Vader is, a Skywalker has to be. Luke, dammit!
...Yet Leia got a little shafted too.
Check it out. Leia had TWO really good "set-ups" that Did Not Pay Off.
One: In Empire, "hearing" Luke with the Force at the end, saving his life.
Two: riding the Speeder Bike in the Endor jungle as Luke rode as passenger.
Both scenes...the Girl Skywalker is the Pilot. Dig?
I told Dr. Hooey about this: There Could Have Been A Better Ending to Return of the Jedi!!!
I proclaimed this NOT as a Star Wars Nut, simply film fan, now after hearing about logical plot progressions & how reveals happen over the Arc, and hence the Trilogy.
My Idea was Probably Well-Tread Everywhere, Elsewhere but I thought the Best Ending Would Have Been a huge pay-off for Han Solo, our most Human Character. Luke & Leia both Human are kinda aloof & not very "me & you"...yet Han Solo?
OK. Instead of Nein Numb, have Chewbacca on the Falcon with Lando attacking the 2nd Death Star...and They Don't Make It.
But It's OKAY...
HAN gets Saved. By LEIA. The AT-ST Walker CHEWIE "would have been" driving in the Original Ending is dismantled & falling, right on HAN.
LEIA instinctively with the Force, with nothing but Love, HOLDS THE WALKER MID AIR with her hands, struggling in front of her.
LEIA tosses the Chicken Walker aside, exhausted. This would juxtapose to LUKE's inability to raise the X-WING from the Dagobah swamps because "he did not believe"
HAN, finally SEEING use of the FORCE, finally BELIEVING says "I love you"
LEIA says, "I Know"
Kiss
END SCENE.
This Came to Me in a Flash, all predicated on the McKee I read.
Just because it Pays Off themes set up in the previous movies.
Han in the first Star Wars movie says "Kid, I've flown from one side of this galaxy to the other. I've seen a lot of strange stuff, but I've never seen anything to make me believe there's one all-powerful force controlling everything. There's no mystical energy field controls my destiny."
Han is NEVER Given the Chance to Turn this Negative into a Positive.
Han Never Gets to Believe in the Force, even as much as We The Fan do IRL in real life.
Now as a cognizant film fan I think...whut?? A missed opportunity...what a bad ending.
Jub-Jub song or Not.
The sacrifice of Lando, Chewie and the Falcon would have cut Han permanently off from his previous life YET with his new found faith in the FORCE and his love of Leia and their future together, the Movie ends on a series of Positives just for this One Human Anchor.
Seriously, I can't even name the Theme of each individual Star Wars movies (and heaven fucking help you if you can in the Prequels). C'mon, really? Empire's Theme is "Losing Sucks?"
I'll get off my soapbox now.