One of the things I love about Blogging is This:
finding an old funnybook and sharing the experience with friends, new & old.
A comic published in the 1970s is one of the quickest nostalgia vehicles for me personally.
Not for the stories but the Little Details like the adverts which are the real anchors to Space/Times in my pert-near 40 years on the Planet.
The Comics Gnome found something while we were eyeing the aisle at the Funnybook Bodega. It was a Saturday and there were children in the comicbook store! Again!! Holy Shit!!! But iDigress...
On the New Release shelf was a bevy of backissues for a few bucks so I heeded the beckoning.
One of my gripes about modern Superhero comics is that they're just not as fun as they were in Ages Past. And I put my Money where my mouth is. For a Whopping Two Dollars...
it's a Winter 1976 collection of late Golden/early Silver Age reprints. Cover priced for Fifty Cents.
Three Tales of the Super Heroes fighting...well Super-Gorillas!
a SUPERMAN tale from 1956, art by Wayne Boring. A Classic look and feel to the Man of Steel.
a FLASH from 1967, story by John Broome & art by legend Carmine Infantino.
and finally BATMAN & ROBIN from Batman #75, 1953.
Each hero fights their own Gorilla. Yup. Not bad either. Not entirely great but definitely had a but more fun. And they were a bit preachy too with "The Moral of the Story" at the end of the Adventure.
But what I liked the most were the advertisements! Better than the dated stories (which were all tasteful & a little ridiculous) were the ads that were in all those publications at particular times.
It was 1976. It was a different America then.
We didn't need to wear seatbelts. Or have helmets when riding our bikes or rollerskating.
There were only Four Big TV Channels. Hello, PBS? Mouthbreathers...sigh...anyhoo. And we in Boston had a good 4-5 Little UHF stations.
Speaking of Old Teevee, Tell me seeing an ad doesn't make you feel 5 Years Old Again?
(if you wanna be jealous, I had the Death Star playset in the second ad? haha -The Mngt)
Then How About This One...And Would It Fly in 2012 USA? Hell No!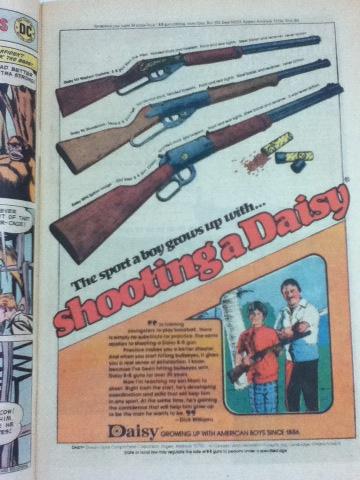 Daisy Air Rifle, anyone?
Then over here to the Proto IntrePoop...the Quintessential Ad Page!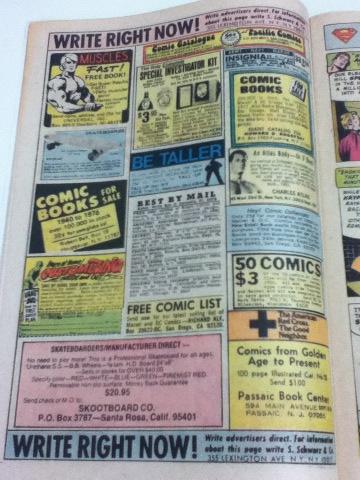 On this Page, Charles Atlas and his Dynamic Tension Theory of Bodybuilding. Skateboarders around the country could get new decks, trucks, wheels & bearings to build their own boards in '76. Comics for Sale. Special Investigator Kit for $3.95 (plus 35 cents postage) Not Available to NY State Residents! GASP!!
Then to the Back Cover, glossy paper stock, prime real estate for any ad in any magazine...held by Spalding Basketballs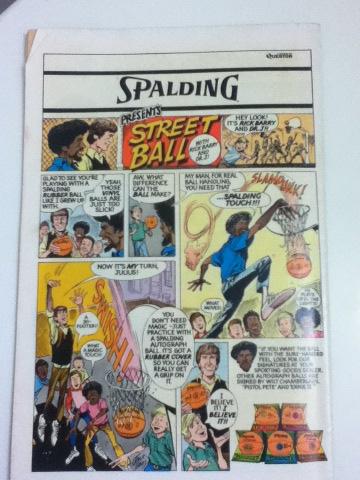 and in closing we get the opposite of the Back Page Ad, the Inside Cover Ad.
Same Glossy paper stock. The first thing you see with our Western Eyes moving Left-to-Right is another ad with a story told in sequential panels of drawn art with narrative copy and dialog. Comics!
Here's a tale of normal police officers capturing the nefarious JOKER.
what's the Plug? Hostess Fruit Pies!
I hate commercials.
But nothing brings me back to slices of life quicker than The Ad or a Jingle I may have seen & heard hundreds of times, over & over & over & over again like a Hot Moment's Pop Song...yet that Hot Moment being Many Moons Ago.
I wonder will I still get Bloody Drool when I hear "Call Me Maybe" when I'm 64?
This Funnybook ended up being an artifact, a series of cave drawings. A Psycho-emotional Archaeological dig finding in the Pyramid of Myself. King Nut, aw'right? ;)
Kriya Shakti,